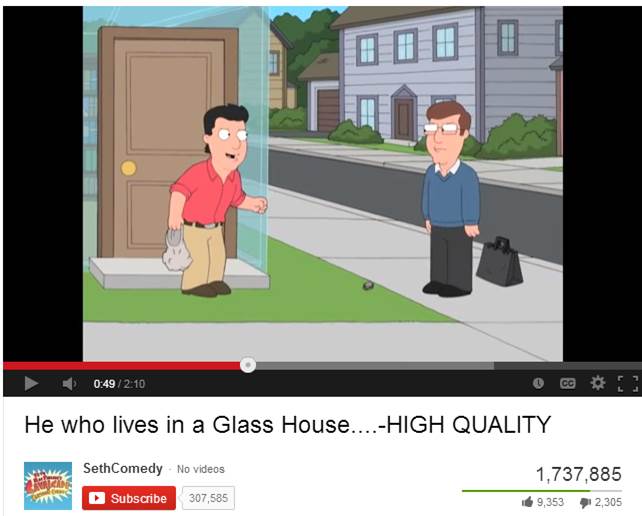 We Who Live in Glass Houses
It's good to see the back of October. The first half of the month was dominated by the sixteen day shutdown of the Federal Government; the second half by the sloppy roll-out of the Affordable Care Act's website and government operated health insurance exchange. Worst of all, the heavy artillery lobbed during the ensuing media war games has caused collateral damage to consumer sentiment and the US economy.
The US Congress will pay federal workers retroactively for the work days lost during the shut-down, but it cannot restore income to small businesses serving workers and Federal agencies, cancelled trips, or revenues from shuttered national parks and recreational sites. And then there are the lost opportunities, like the US absence from the Asia Pacific Economic Cooperation meeting (APEC) – where the President and delegations accompanying him meet and market the US to one of the world's most dynamic regions. Republican lawmakers, particularly in the House of Representatives bore the brunt of the public's anger, with opinion polls indicating support fell to all-time lows (24%), which may figure in next week's off-year elections. Since Congress only funded operations for three months, we will revisit fiscal issues again in January, with talks likely to focus in part on across the board spending cuts due to take effect – also known as the sequester.
Any gloating by Democrats was short-lived once Washington returned to work and found that the healthcare.gov website, its reporting mechanisms, and security protocols had serious flaws. The Obama Administration managed the process poorly, and now also finds itself on the defensive (here's a handy "blame game" chart). The good news is that most folks are cutting the Administration some slack – a poll shows 2/3rds think it's a short term issue or will reserve judgment for now. The White House anticipates key fixes will be in place by late November and has delayed its marketing campaign until they have a website that works. Lost in the frenzy is that most people get insurance through work and will see more modest changes – only those without insurance or purchasing independently in states that do not have an exchange will be affected. Also, the US Treasury has loosened rules for Flexible Spending Accounts (FSAs) enabling many people putting pre-tax money aside for health expenses to carry up to $500 over to the next year. By contrast, many state-run exchanges are performing better and signing up decent numbers, but not as many as hoped.
So what's the damage from all this? Economists may differ on their estimates, but agree that the government shut-down will reduce growth in the fourth quarter (Oct-Dec). Macroeconomic Advisors trimmed their forecast by 0.3% (here's their calculator) while Standard & Poor's put the cost $24 billion, reducing growth by 0.6% (here's their statement). What's more, recent data released show that growth momentum had slowed before the shut-down took place, with monthly job gains moderating to barely 150,000 from a pace of 180,000 earlier in the year. Retail sales rose 0.2% in August and dipped -0.1% in September, while home sales slowed due to higher prices (up 12.8% year on year according to the Case-Schiller 20 city index) and the increase in mortgage rates during the late spring/summer. The big kicker however was a plunge in consumer confidence, according to national surveys, which does not help retailers as they enter the all-important holiday season.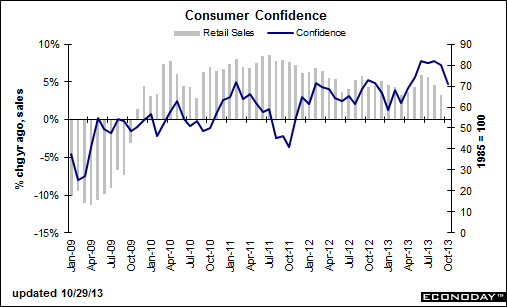 Federal Reserve officials announced they will maintain their extraordinary stimulus efforts for now, which in turn has helped 30-year mortgage rates dip back to 4.15%. But while the economy giveth, it remains to be seen whether Washington will 'taketh away'. An across the board cut in supplemental food benefits (SNAP or food stamps) goes into effect today, impacting an estimated 1 in 8 households. And even though the budget deficit fell to 4.1% of GDP in the 2012-2013 fiscal year – its best result since 2007, ongoing budget talks focus on cuts in spending, which can dampen near term growth prospects, rather than longer term changes that can have a more profound and lasting positive impact on the US economy.

The battles of the past month also highlight the fact that in today's world we all live in glass houses. There has been some bewilderment internationally, and a bit of schadenfreude too now that the US finds itself on the receiving end of advice on how to handle its affairs. While we may find ourselves working within 'bubbles' like those in the West Wing, or news outlets that mirror our personal perspectives, it's only a matter of time before a wider reality sets in. Our connected world no longer protects tyrants, nor does it seem to secure our personal information – and not even world leaders can hide from the spying techniques of the National Security Agency (NSA). Perhaps once we figure out that we all do live in glass houses, we can confront some of our "stone-age" approach to conflicts – it's not about who's 'right' – but how to resolve them.

*Tipping our hat to the bit – "He who lives in a Glass Houses" from the popular cable television show, Family Guy. Here's the link http://youtu.be/MGsZwDkk4Eo
---
LAST CALL: Breakfast for Women Owned Businesses (FREE!)
(& those interested in starting one)
Wednesday, November 6th ~ Nyack, New York
7:30 to 10 am (program starts at 8)
REGISTER HERE ONLINE or Call (914-366-8582) or e-mail mgannon@mtb.com.
Featuring Congresswoman Nita Lowey
& Panel of women business owners (including Feminomics)
Sponsored by:
Feminomics You Tube Channel, 'Like' our videos, our Feminomics Facebook Page, and follow us on Twitter.